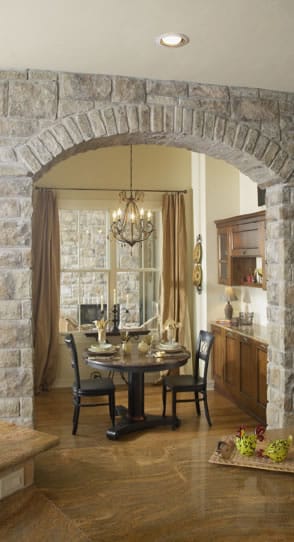 The beautiful look of Liberty Classic Stone is easy to attain. Before beginning the installation process, make certain you have the following:
Tools & Supplies
Mason's Trowel
Level (4-foot minimum)
Stone Chisel
Mason's Hammer
String Line with Coursing Poles
Jointing Tool
Soft Bristle Brush
Drill with a Mortar-Mixing Blade
Type N or S Cement
Sand
Non-corrosive Wall Ties
Mortar Specifications
Mix 3 parts sand to 1 part type N or S cement. Add enough water to
achieve a workable consistency.
Installing Liberty Classic Stone
1) Footing is required to lay Liberty Classic Stone. Check area building codes for footing requirements.
2) Set up coursing or corner poles to maintain accurate coursing heights and horizontal lines.
3) Pre-wet Stone prior to installing
4) Bed joints must be laid full and even.
Full head joints are required to ensure that all joints can be tooled evenly
Liberty Classic Stone can be laid using various styles of jointing.  A concave joint is the most common.
5) Make sure that each joint is properly sealed. The joint seals the wall and creates the final appearance.
6) Allow mortar to become firm before striking and brushing the joints.  This will prevent the mortar from smearing.
7) Minimal cutting is required. This can be done using either a hammer and chisel or a masonry saw.
8) Install ties according to architectural specification and building codes. Non-corrosive wall ties are required.
9) CLEANING RECOMMENDATIONS. Pre-wet surface. Use masonry cleaner without acid in accordance with manufacturer's dilution ratios and instructions. Start at the top of the wall, applying solution to wet area using a soft bristle brush. Rinse thoroughly, removing all solution and residue. Do not use power washer, bleach or acid cleaners.